Night Owl is one of the distinguished names in the world of security technology, providing a range of security products at affordable prices to its customers. They have wired, wireless as well as hybrid cameras along with plenty of options in visual and audio equipment, making high-quality security accessible to all.
But wait, there's more.
They have gone one step further and are providing you with the sense of safety and protection you aspire to attain with their Night Owl HD app. The purpose of this app is to monitor the night owl security systems from the convenience of your PCs and smartphones.
The remarkable technology enables you to scrutinize your home, business, or any other personal property on your phone, even when you are not present on the premises.
Night Owl HD App Overview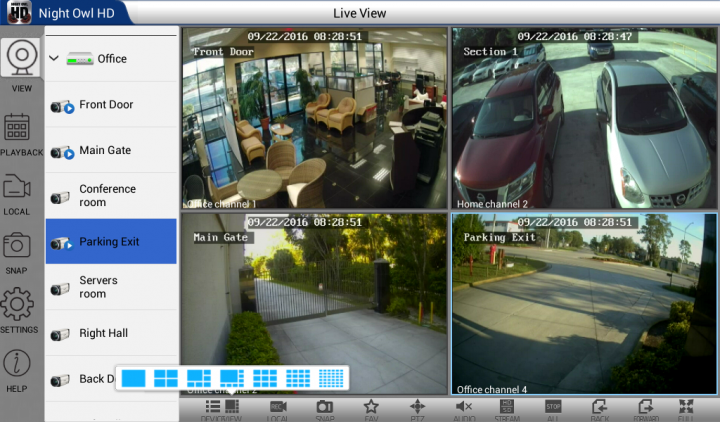 Night Owl HD is an application developed solely for surveillance, allowing you to manage and monitor videos from IP cameras and DVRs in real-time. You can easily have this application installed in your PC too, regardless of whether you are on Windows or Mac operating system.
This video monitoring application ensures that the user has full control of all that the security cameras have to offer; from Zoom to recordings, and still-image and video captures to playback. There is absolutely no involvement of a third party buffer, not even from the company itself as video streaming is directly transmitted from the security system to the Night Owl HD app on your phones.
Keep one thing in mind, though; the application requires a stable internet connection for live video streaming. While the camera itself does not require the internet to perform its function, a stable internet connection is a non-negotiable for viewing, managing, and controlling its feed via your phone and PC. An unstable internet connection can sabotage your user experience.
A quick glimpse into Night Owl's exclusive features
The application offers several features that make it entirely worthwhile for use. Some notable ones include:
Instant and uncomplicated installation and setup in all mobile phones
Live and seamless audio and videos from all Night Owl security systems via WiFi or 3G/4G networks
Easily change and customize channels tag directly from the phone
Save images directly from your phone
Video recording option within the app
Instant notification on detecting a motion
Can play, pause, forward and reverse the saved videos within the app
Can manage multiple DVR videos
The application is absolutely free and can be downloaded without any hassle from Google PlayStore. However, if you are looking forward to installing the Night Owl HD app on a laptop or a computer, you are going to have to resort to an Android emulator.
With an Android emulator, the installation will be fairly convenient on Windows (7,8,10) and macOS.
How to Use Night Owl HD App on Your Computer?
Follow the steps given below to install and set up this surveillance application on your PC supporting both Windows and macOS.
1- Install an Android emulator
If you don't already have an emulator installed in your PC, then finding and installing the right emulator would be the first step. One of the best android emulators recommended for this application is Bluestacks.
2- Link emulator with Google account
Linking your Google account with the emulator will enable you to download various applications from the PlayStore.
3- Install Night Owl HD app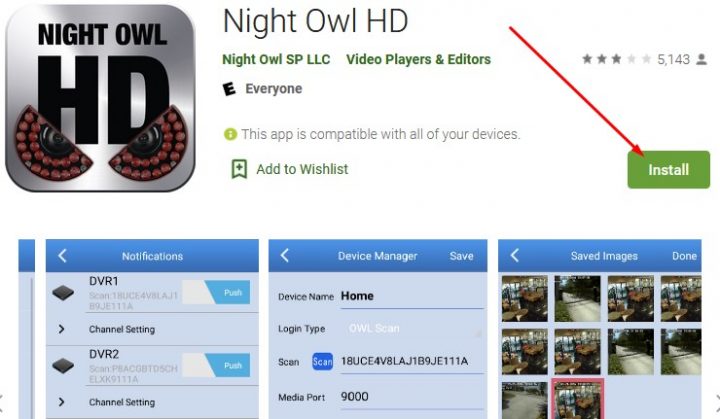 In the PlayStore, search for Night Owl HD app. Once you find the app in the search bar, click on it to begin the installation process.
4- Configure the app with your security camera
Once the app is installed, go to My Apps, where you will find the app. Open it to configure it with your security camera. This will require details like the IP address of the camera and device name.
Once these steps are completed, you will now have a functioning Night Owl HD App on your computer, showing you the live footage from the cameras configured. You can start reaping the many benefits and features that it offers and put your mind to rest knowing that you are in complete control of the security of your desired property.
Here are two cents from Night Owl HD's customers
The company puts in quite an effort to keep its users happy and retain them in the long run. Therefore, the application keeps getting better with periodic upgrades.
At large, the Night Owl HD app has a massive customer base that is entirely satisfied with the security features that it offers. A quick look at the Google or Apple store will highlight numerous customers expressing their content with the overall speed and stability of the application.
One of the reasons why Night Owl HD is particularly well-received by its users is because it relies on a straightforward, user-friendly interface that doesn't put them through an unnecessarily complicated learning curve before they can start getting the most out of the app. All in all, numberless users acknowledge the safety and security they feel with the Night Owl watching over their valuable property.
However, a few complaints every now and then is also a part of the process much like any other app. The good news, though, is that the technical support team makes sure that they never turn a blind eye to anything that fuels troubles for the users. The support team is vigilant and quick in responding back either with a solution or a commitment to fix it at the soonest possible.