AnyTrans, as a comprehensive iOS device manager is used by many iPhone and iPad owners around the world. The AnyTrans utility software app also has support for Android device management, as well as other important features.
Often times, you may need to transfer files from your iPhone to your Android device or transfer from your iPhone to another iPhone, AnyTrans comes in as a perfect solution for transferring files between any two iOS devices or from Android to iPhones.
Irrespective of what you do with Anytrans software, the big question from a lot of users is – if Anytrans is safe for use on newer iPhone and iPad devices. Well, I'll be answering the question of – is Anytrans safe for use on newer iOS devices below.
Is Anytrans Safe for Newer iPhone & iPad Devices?
Well, as earlier stated, a lot of smartphone users around the world rely on the AnyTrans software to increase productivity. However, recently, there have been some questions as regards to AnyTrans being a trusted app for newer iOS devices or "not safe."  Well, the AnyTrans software has been verified and marked as a "safe app" by many trusted websites and antivirus companies.
More so, AnyTrans processes payments via McAfee SECURE; all your sensitive data are exchanged during payment with a very strong and highly reliable SSL security/encryption. The company assures that your card details will never be leaked to prying eyes and phishers. In all, AnyTrans is very safe for use on iOS 13 and newer Apple iOS devices.
AnyTrans for iOS Overview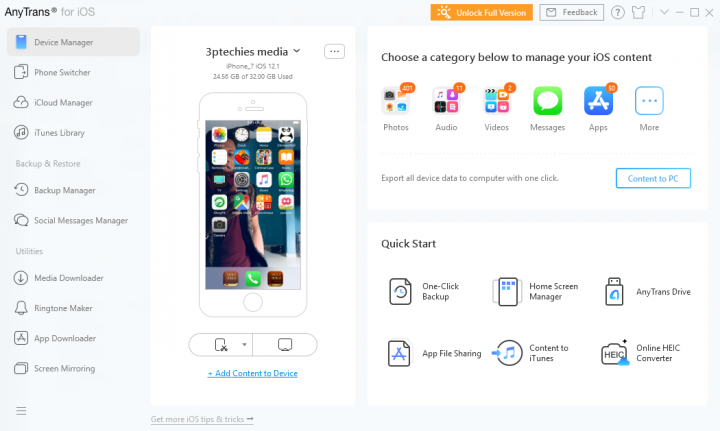 It is possible to use mobile apps to transfer your files and documents from one mobile device to another; however, there are some files that cannot be transferred using mobile apps, such files as your contacts, SMS logs, and other logs. However, with AnyTrans for iOS, you can manage virtually everything saved on your iPhone.
More so, the AnyTrans for iOS comes with a wealth of features including data backup/restore tools, online video downloader for iOS, contact management tools, and more. Furthermore, although this app is called AnyTrans for iOS, it can be used to transfer files from iPhone to Android or vice versa.
You can use the AnyTrans for iOS software to manage all iOS devices; this includes iPhones, iPads, and iPods. This software promises to be a perfect alternative to the infamous Apple iTunes app, and it offers more features.
Features of AnyTrans for iOS
Here are some of the best features of Anytrans for iOS software.
Easily create and restore backups
With AnyTrans for iOS software, you can create a full backup of your iOS device. Also, at any time, you can restore the backups to any iOS device using this software. AnyTrans for iOS offers flexible and convenient backup and restore tools.
Works with basic PC Specs
Anytrans software is compatible with all modern operating systems and requires but minimal system configuration to work smoothly. All that's required for the software is:
Windows OS: Windows 10, 8, 7, Vista (32 or 64 bits)
Mac OS: macOS Catalina, macOS Mojave, macOS High Sierra, macOS Sierra, OS X 10.11, 10.10
iOS: iOS 13, 12, 11, 10, 9, 8, 7, 6, 5
Android Version: Android 4.0 and above
CPU: Pentium IV 2.4GHz or higher
Memory: at least 512MB RAM
Misc: iTunes software
Comprehensive iOS device manager
AnyTrans for iOS offers a lot of iOS file management tools; this includes file transfer tools, a photo management tool, an app management tool, and more. With AnyTrans for iOS, you will access and manage all files on your iOS device through an intuitive, easy to navigate interface.
Manage iTunes and iCloud
From AnyTrans for iOS app, you can manage your iCloud backups, as well as iTunes contents. The app provides a swift interface for navigating through the future-rich software window to access any tool you wish to use.
Transfer from one device to another
So you've got a new device and wish to transfer your files and data from the old one to the new one? AnyTrans for iOS comes with a tool that allows you to easily migrate all your files from one device to another, irrespective of the device's operating system, whether iOS or Android. With this migration tool, it is easy to switch from Android to iOS or vice versa.
Explore more extensive handy tools
Furthermore, this software app supports three extensive tools; an online video downloader tool, a custom ringtone maker, and an iPhone screen capture tool. You'll get these tools for free when you install AnyTrans for iOS.
Summary
AnyTrans is a feature-rich software and it is very safe to use on newer iOS devices. Also, the app is easy to understand, and you can use it for all your iOS file transfer and media management challenges.