Troubleshooting of satellites dishes and decoder is something you're going to do often as an installer, student or someone who journeys to multiple locations. Our earlier review of digital satellite meters raised the curiosity of most 3ptechies readers that wanted to know what best options are there in the space of top Satellite Signal Finders.
This is our main reason for creating this list: To guide you on best satellite finder for dish networks, satellite finder meter prices, satellite finder meter for directv, and everything else you need to know about top satellite meter for dish networks.
They will come in handy for: troubleshooting satellite TVs, installing satellite dish network by yourself, working with satellite meter apps, and for directTV troubleshooting. But before diving into the list, I'll like to say a thing or two for those that might be hearing about satellite signal finder meters for the first time.
What is a Satellite Signal Finder?
A satellite signal finder is portable device that lets you search for signal, troubleshoot, align, and setup satellite dish networks with little or no inconveniences.
They can be analog or digital, and often refereed to as: satellite compass, SatFinder meter and/or SatSignal trackers. The professional models comes with on-screen HD display, while the cheapest models uses audio beep to signal users.
In all, SatFinder meters (irrespective of analog or digital) helps one to position his/her satellite dish to receive the strongest signal for best possible TV reception.
How can Satellite Meter Signal Finder Help You?
As already pointed out above, SatFinders helps one to position their digital satellite dish for best signal reception.
Apart from helping you get the strongest TV signal, Sat Finders eliminates the inconveniences of making multiple trips to the roof, or needing a friend's help to check the signal strength at your TV set.
You'd need a professional satellite finder meter as an installer or satellite installation hobbyist. This would come in handy for working on client's electronic sets, as the risk of causing damages is normally limited by working with a Sat Finder.
How to use Sat Finder Meter for Signal Tracking
We'll like to close this section with this. Guiding you on how to use most satellite finder meters in dish signal tracking.
Although we've extensively talked about this in the digital satellite signal finder review post (linked above), we'll like to bring it on here for emphasis.
To use SatFinders, connect one end of the provided coaxial cable to the barrel connector on the satellite dish's LNB (low noise block downconverter) and the other end to the SatFinder meter.
Loosen the dish nuts for easy adjustment to either along the horizontal (azimuth) or vertical (elevation) planes, and Move the dish from side-to-side along the horizontal plane until you dictate the position at which the SatFinder meter shows the greatest signal strength.
Gradually raise and/or lower the satellite dish along the vertical plane until you deduce the elevation at which the SatFinder meter shows the greatest signal strength.
Firmly tighten the dish nuts (without moving away from the position detected) to lock your satellite dish into position and gradually disconnect the coaxial cable from the LNB on the satellite dish.
List of Top 10 Best Satellite Signal Finder
Here's pointing out my favorite Satellite Signal Finders (or Sat Finders) that lets one track satellite dishes like a pro. I focused on the readily available ones, and present this list in no particular order.
The prices are sourced from the top online shopping websites including Gearbest, Aliexpress and Amazon. Please do read through the list and suggest some satellite finder meter you've personally used at the comments section.
OCDay GSF-9502 HD digital satellite finder meter ($4.99)
OcDay GSF-9502 FTA digital satellite signal finder is a very cheap satellite finder meter for dish networks. It comes with good features and makes satellite signal tracking easy and effortless.
With this gauge, you can track satellites without needing to stay close to your TV; Just connect the gadget between the parabolic antenna and its receptors, and then start tracking satellites at ease.
This sat finder is a perfect choice for operators whose satellite dish are quite afield from their windows or door. Furthermore, it comes with an inbuilt LED light for night usage, bell electric features and a tone rising for signal strength monitoring.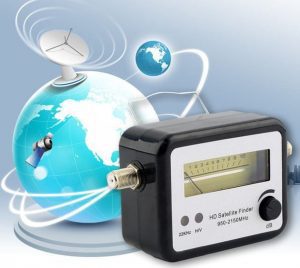 Features:
Extremely Cheap
Easy and Simple to use
Helps you track satellites effortlessly.
Inbuilt LED light for night usage.
Suitable to use while trying to set up your plate on a tripod too far.
Works without batteries.
2150 MHz input frequency 950.
Technical Specifications:
| | |
| --- | --- |
| Brand Name | OCDAY |
| HD (High Definition) | Yes |
| USB WiFi | No |
| FTA (Free To Air) | No |
| Frequency | 950-2150MHz |
| Power Source | 13 – 18V DC |
KING SL1000 SureLock TV Antenna Signal Meter ($31)
Inspite of your location, King SL1000 SureLock TV Antenna Signal Meter is sure to fish out all signals your antenna could attract. This gadget is crafted to simplify the process of finding/locking onto an OTA TV signal from a directional antenna.
Connect this meter to any TV antenna output or install in-line between your TV and antenna; Once you rotate your antenna, SureLock will provide a real-time LED feedback displaying the current signal strength, this will let you know at what exact moment you should lock onto a signal.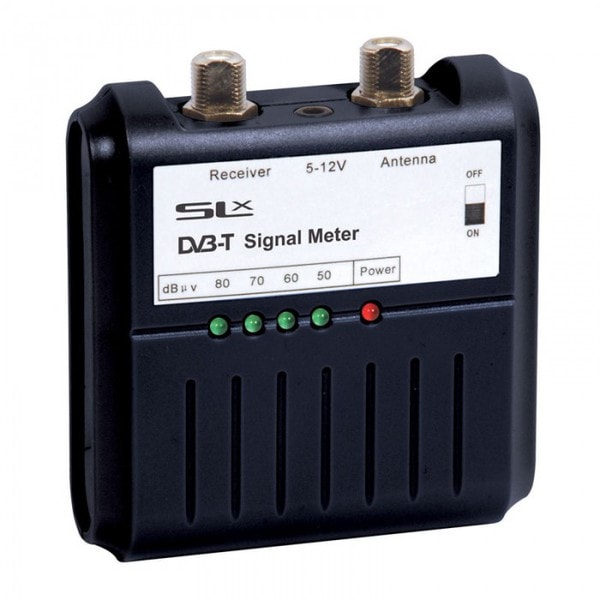 Also, this sat finder has a variable sensitivity adjustment which lets it work efficiently when far or near from the TV towers.
Features:
Over-the-air antenna accessory
Foolproof way to locate over-the-air TV signals
Directional TV antenna required
Stationary use only
Portable and Lightweight
Adjustable sensitivity
Power source: 9V battery
Connects in-line with your antenna
LED feedback displays signal strength
Technical Specifications:
| | |
| --- | --- |
| Name | King SL1000 |
| Dimensions | 3.5 in x 3.2 in x 1 in |
| Weight | 25 Ibs |
| Signal Range | 60-90 dBuV |
| Required Power Capacity | 5V DC, 40mA |
| Battery | Li-ion 9 Volts |
GSF9504 Satellite Signal Meter/Finder ($4.99 per piece)
The  GSF9504 Signal finder is a cheap, but a super solid satellite meter for dish network. It lets you track and manage satellite signals easily. It is portable and handy, crafted with SMT technology, highly sensitive and can show signal from 0.2dB to 2300MHz.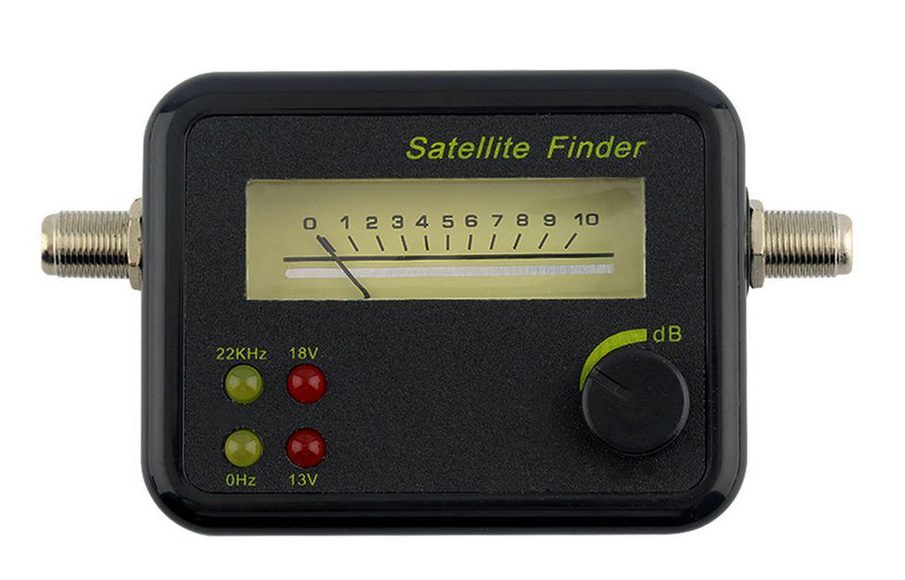 This gadget displays signal strength according to the dish position with an easy-to-read analog needle which lets you do adjustments when necessary.
Features:
In-line IF signal strength meter
High sensitivity
DC pass to LNB and internal light
Inbuilt 0Hz, 22KHz,13V,18V indicating LEDs/buzzer
Good body design
Portal to carry around.
Technical Specifications:
| | |
| --- | --- |
| Name | GSF9504 |
| Dimensions | 80 x 35 x 62mm |
| Material | Plastic |
| Voltage | 13-18V DC |
| Frequency Range | 950-2150MHz |
| Input Level Min | 40dBm |
| Input Level Max | -10dBm |
 Leory DVB-T SF-95DL Mini Digital TV Antenna & Satellite Signal Finder
Leory LCD DVB-T SF-95DL is a Free-To-Air(FTA) Satellite signal finder, it works on all satellite systems without automatic tuning ability. This satellite signal finder comes with a LED displayer which helps to tell signals strength cleanly.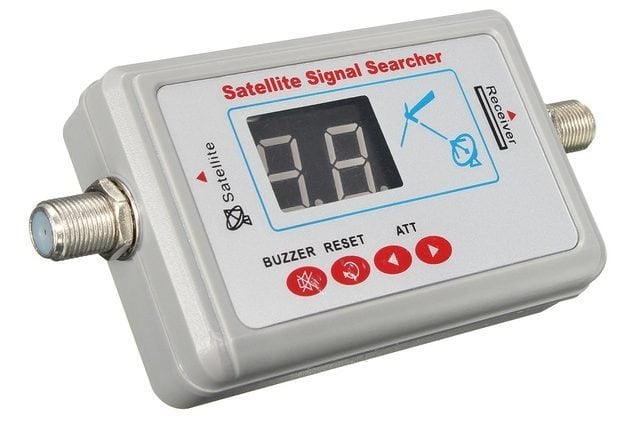 Furthermore, it has audio tone feature to help you align the satellite antenna to a signal effortlessly. Finally, this is portable sat finder which would work efficiently for tracking satellite dishes and dictating signals.
Features:
FTA dish/signal tracker
Portable to carry around.
Perfect for systems without automatic satellite tuning capability.
Simple and easy to use.
LED displayer for precise results of signals strength.
Audio tone feature.
Can be used to work on multiple dish systems.
Technical Specifications:
| | |
| --- | --- |
| Name | Leory LCD sat finder |
| Power supply | 13-18V DC |
| Operating Temperature | 0 – 40degree Celcius |
| Input range |  -40~-10dBm |
| Freq. range | 950-2150MHz |
| Weight | 0.35kg |
| HD | Yes |
| FTA | Yes |
Generic Digital Satellite Signal Finder ($5)
If you are looking out for an effective digital sat finder? This gadget is a perfect option for you. With over 200 positive reviews on  aliexpress , this digital satellite signal finder will help you set up dishes in just a few minutes.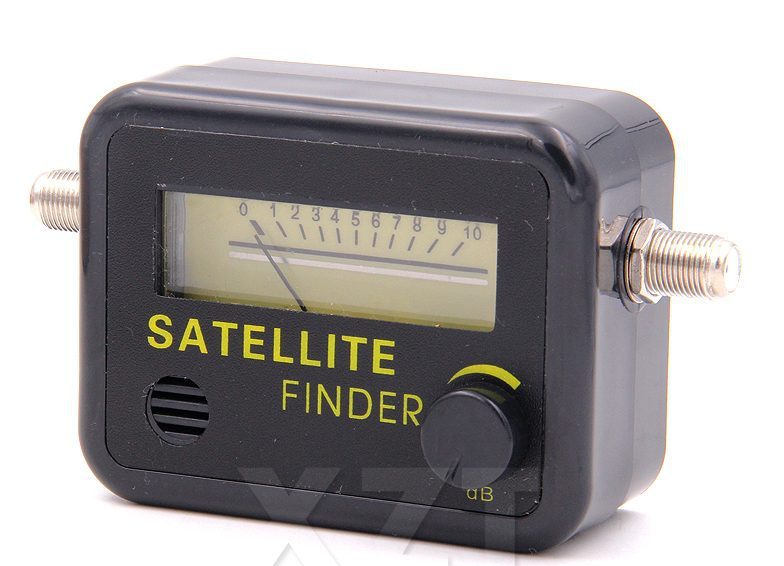 It features an illuminated LED meter indicator and is compatible with DirecTV, FTA satellite systems, and Dish Networks. With this, you'll be able to do signal alignment without much troubles.
Features:
950 MHz – 2150 MHz input frequency range
Highly sensitive
22 Khz indicator LED light
Compatible with multiple systems
Audio tone feature
Analog signal strength meter display
Illuminated LED light for clearer view  at night
Portable and light
Easy and simple to use/operate.
Use power supplied from your satellite receiver; No external power/batteries needed.
Technical Specifications:
| | |
| --- | --- |
| Frequency range | 950 MHz – 2150 MHz |
| LED indicator | Yes |
| LED meter Display | Yes |
| Batteries | No |
SF-95DR Digital Satellite Signal Meter ($13.00)
SF-95DR records more accurate readings than most meters in its class. This is a professional digital satellite signal tracker with professional output performance and results.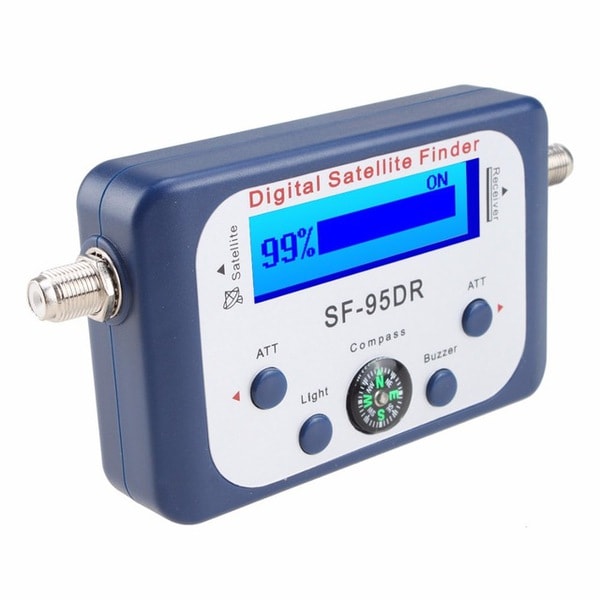 It has a bright blue backlight which lets the user see clearly during night hours. This gadget does not need complicated programming or manual meter calibration. It recognizes LNBF frequencies automatically and works with any Ku band, C band, or Ka-band satellite.
Features:
No meter calibration needed
Does not need complicated programming
Automatic recognition of LNBF frequencies.
Simple, light and portable
Convenient to carry about.
Technical Specifications
| | |
| --- | --- |
| Name | SF-95DR |
| Frequency range | 950-2150MHz |
| Voltage | 13-18V DC |
| Input level range | -40dBm~ -10dBm |
| Operating temperature | 0 – 40-degree celsius |
| LED display | Yes |
 SF 560 SF-560 DVB-S/T/S2/T2 Digital Satellite Finder Signal Meter
This is a comprehensive 2-in-one digital sat finder/signal meter, it comes with full satellite tweaking features. With this gadget, one can maneuver every satellite signal finding problem.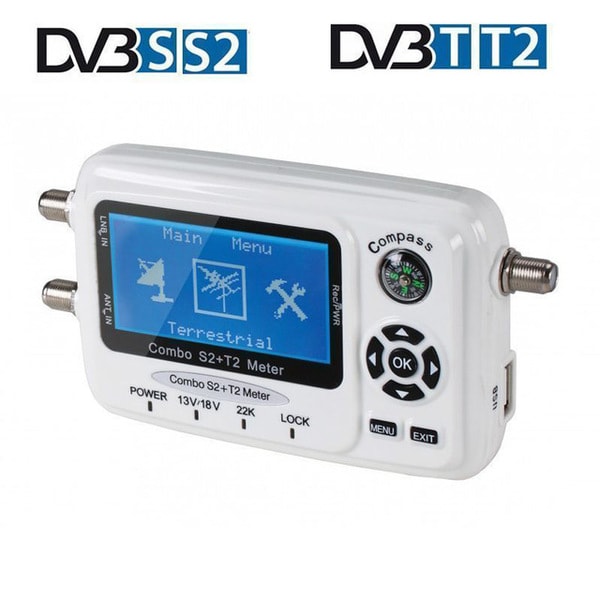 More so, it is portable and light-weighted, it can be carried around conveniently.
Features:
LO Frequency of LNB, Symbol rate, etc.
Finds satellite and antenna signals accurately.
Provides spectrum display
Supports 0/22KHz, DISEqC1.0 switch, USALS, support 0/5v, update data through USB
Displays satellite and antenna signals in a clear LCD digital screen.
Supports DVB-S, DVB-S2, DVB-, and DVB-T2
Technical Specifications:
DVB-S2:
| | |
| --- | --- |
| Frequency range | 950 – 2150MHZ |
| Signal Level | -65 -25dBm |
| Impendence | 75 Ohm |
| Symbol rate | 1Msps – 60Msps |
| Demodulation | DVB-S: QPS |
| Supports | 8PSK,16APSK, 32APK, DiSEqC: V 1.0 |
DVB-T2:
| | |
| --- | --- |
| Frequency range | 170-230MHz   470-862MH |
| Signal Level | -78-10dBm |
| Impendence | 75 Ohm |
| Bandwith | 6MHz, 7MHz, 8MHz |
| Demodulation | DVB-T: QPSK,16QAM |
| Supports | 16QAM, 64QAM, 256AM, DiSEqC: V 1.0 |
Satlink WS-6906 Satellite Signal ($68.00)
Satlink WS6906 satellite signal finder/meter lets you watch all FTA digital satellite channels on its colored LCD screen and accurately align satellite dishes. Also, you can check the stability of channels directly on the screen of this gadget.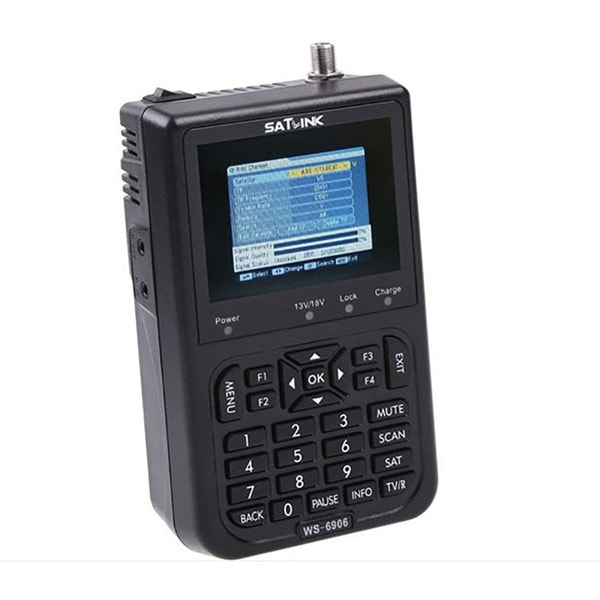 Furthermore, Satlink WS-6906 digital satellite finder can be connected to a standard satellite receiver or a TV. It comes with an AV input were other media players or surveillance cameras can be connected (comes in handy for ccctv cameras configuration).
Features:
Lets you view all Free To Air satellite channels direct from the gadget screen.
Auto Re-Calibration
Automatic dish angle and settings calculations based on your longitude and latitude.
Transponders, symbol rate, frequency, polarity, and other settings can be modified by the user.
No need for meter upgrade
3.5 inch digital LCD Screen
AV in and out function.
Access to free channels
Upgrade software via USB.
Technical Specifications
| | |
| --- | --- |
| Fully DVB compliant | Yes |
| LNB/Tuner input | Connector |
| F type | male |
| Frequency range | 950MHz-2150MHz |
| Signal level | -65dBm ~-25dBm |
| LNB supply | 13/18V, max400mA |
| LNB switch | 22KHz |
| DiSEqC | V 1.0 |
| Demodulator, Front-end | QPSK |
| Symbol rate | 2Mbps~45Mbps |
| SCPC / MCPC Capable | Yes |
| Spectral inversion | Auto conversion |
| System resource Processor | 32bit processor (200MHz) |
| SDRAM | 16Mbyte |
| FLASH | 2Mbyte |
| EEPROM | 8Kbyte |
| Screen Resolution | 720 x 576, 720 x 480 |
| Video format | PAL/NTSC/SECAM |
| Connector | USB type |
| Power | Li-ion battery 3000 mAH |
| voltage | 8.4Volt |
| Charger | 90-240V |
| Dimensions | 9.5 x 15.5 x 4.5 (cm) |
| Weight | 0.5 Kg |
Sathero SH-100HD digital signal finder satellite meter DVBS/S2 with USB 2.0 ($49.00)
This digital satellite finder – sathero SH-100HD lets you track signals and align satellite dishes at ease. It is very portable and convenient to carry about, it also features an LCD digital screen which displays the real signal strength at each position.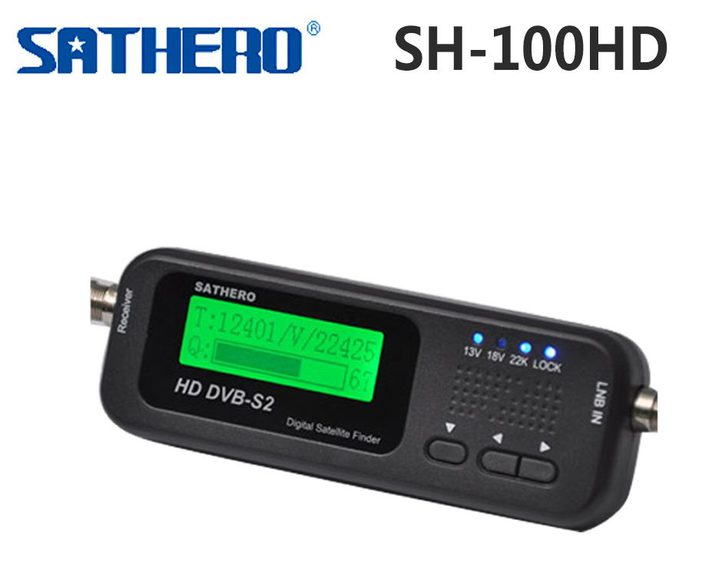 Features:
Fast and smart.
950~2150MHz frequency range
75ΩInput Impedance
Preset global satellite data
Editable satellite parameters
LCD display screen
Function, operation and signal Lock Light
Indicator Lights
LNB short-circuit protection
Upgrade software and parameters through USB
Technical Specifications
| | |
| --- | --- |
| Name | Sathero SH-100 |
| Dimensions | 13.5 x 4.8 x 2.5cm |
| Frequency | 950~2150MHz |
| Input Level | -65~ -25dBm |
| Impendence | 75 |
| Demodulation | QPSK, 8PSK |
| Indicator lights | Yes |
| LED display | Yes |
| Weight | 0.18kg |
SF-500 Digital Sat Signal Finder/Meter with Compass
Anewkodi SF-500 digital signal finder/meter is a good satellite signal tracker with lots of cool features. It has support for DVB-s2 and DVB-S with multi-standard decoding and demodulation.
Features:
Supports DVB-S2 and DVB-S
Multi-standard demodulation and decoding
Displays signal strength and quality in its bright LCD screen
Edit or add new transponder parameters
22KHz switching
No battery needed
Includes AC power supply
Technical Specifications:
| | |
| --- | --- |
| Frequency range | 950~2150 MHz |
| Input level range | -65 ~ -25 dBm |
| Symbol Rate | 1~ 45 Msps |
| Temperature | 0 ~ +40°C |
| Input connector | F type |
| Impedance | 750 |
| Power supply | 100V-240V with EU/US Plug |
Final Thought on Satellite Finder Meters
After such exhaustive list of Top Best Satellite Signal Finder for dish networks tracking, it would be wise to give a few more ideas on how to buy the best SatFinder meters with which you can track satellite networks easily.
Quality, handy and most comfortable SatFinders that are easy to hang around the neck, put in the pocket or move around with can be bought from aliexpress, Amazon, Konga, Jumia, bestbuy, and any of the top online shopping stores.
Most of them do not need batteries to work and can work on any satellite system, while some others comes with a removable battery system for easy satellite/CCTV system config.